A Brighter Future Ahead for Maine's Micmac
Excerpt from National Geographic Magazine, July 1993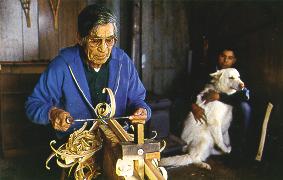 Photo by Pete Souza
Federal recognition -along with health and social- welfare benefits and $900,000 to buy land- has finally come to a migratory Indian band whose ancestors, new research shows, fought in the American Revolution.
Most of the 25,000 to 30,000 Micmac live in Canada, but some 700 eke out a living in northern Maine, following the blueberry and potato harvests and selling baskets, such as those crafted by Donald Sanipass (above). However, they were unable to document a historical presence in Maine until nine years of research by Dutch anthropologist Harald Prins established their roots and paved the way for recognition.
The Micmac have a new sense of self-respect, says Mary Philbrook, tribal leader of the Aroostook Band of MicMacs, which has contracted for group medical and social services and is studying land purchases.

"More doors are open to us than were before," says Philbrook. "Our ultimate goal is to become economically independent."
{ WILD WIND JEWELRY } { COLLECTIONS BY ARTIST }
{ COLLECTIBLES AND DOLLS } { MUSIC, VIDEOS, BOOKS } { WATCHES }
{ FLUTES } { ORNAMENTS AND GIFTS }
{ LINKS }{GIFT BASKETS}
{ TABLE OF CONTENTS } { EMAIL }
Contact Webmaster at email address: dcallei@norfolk-county.com
| | |
| --- | --- |
| Built By: | |